Tinytown 2. Transitional housing for the homeless.
32 low-cost units, 1 common building shown (for scale) on a 50 x120 ft lot.
Basic Shelter composed as a Tinytown
There is a pressing need for temporary basic shelter for the homeless, for women seeking refuge from marital abuse, for people who suddenly have no income, for youth who can't live at home, and for the elderly who don't want to live alone. For these groups, basic housing is not a shelter bed, a converted hotel room, or a room in an institution, but a tiny house in a compact village or tinytown. When well-done, a tinytown consists of a self-managed collection of attractive tiny houses, with a common building containing toilets and showers, a shared kitchen, and a space for dining, recreation and hanging out.
Out-of-date regulations are the problem.
Over 400 community groups in the US have recommended tinytowns as a way of addressing homelessness, so why are so few being built and why are so many people living in tents and vans? The problem is rule-bound city government, bylaws requiring large minimum dwelling sizes, preventing small infill buildings on existing lots, and a myriad of building regulations intended for big houses that make tiny houses unaffordable. The iron grip of rules has driven those interested in tiny houses to perch them on trailers to sidestep the regulations. We need zoning that invites tiny houses, and building bylaws based on performance rather than prescriptive rules. For more see Legalizing Very Cheap Housing. See also page 45 of BC Housing's excellent publication on tiny houses. 
Accessory Dwelling Units – basement suites, lane dwellings, tiny backyard cottages – also face multiple barriers, even though they provide additional housing without the cost of additional land.  BC Housing Research has created a useful report on the barriers to ADUs in British Columbia with case studies and charts to show which barriers create major hurdles. Other communities face similar problems. For years, the Sightlines Institute has been pleading for the State of Washington to remove the barriers to ADUs.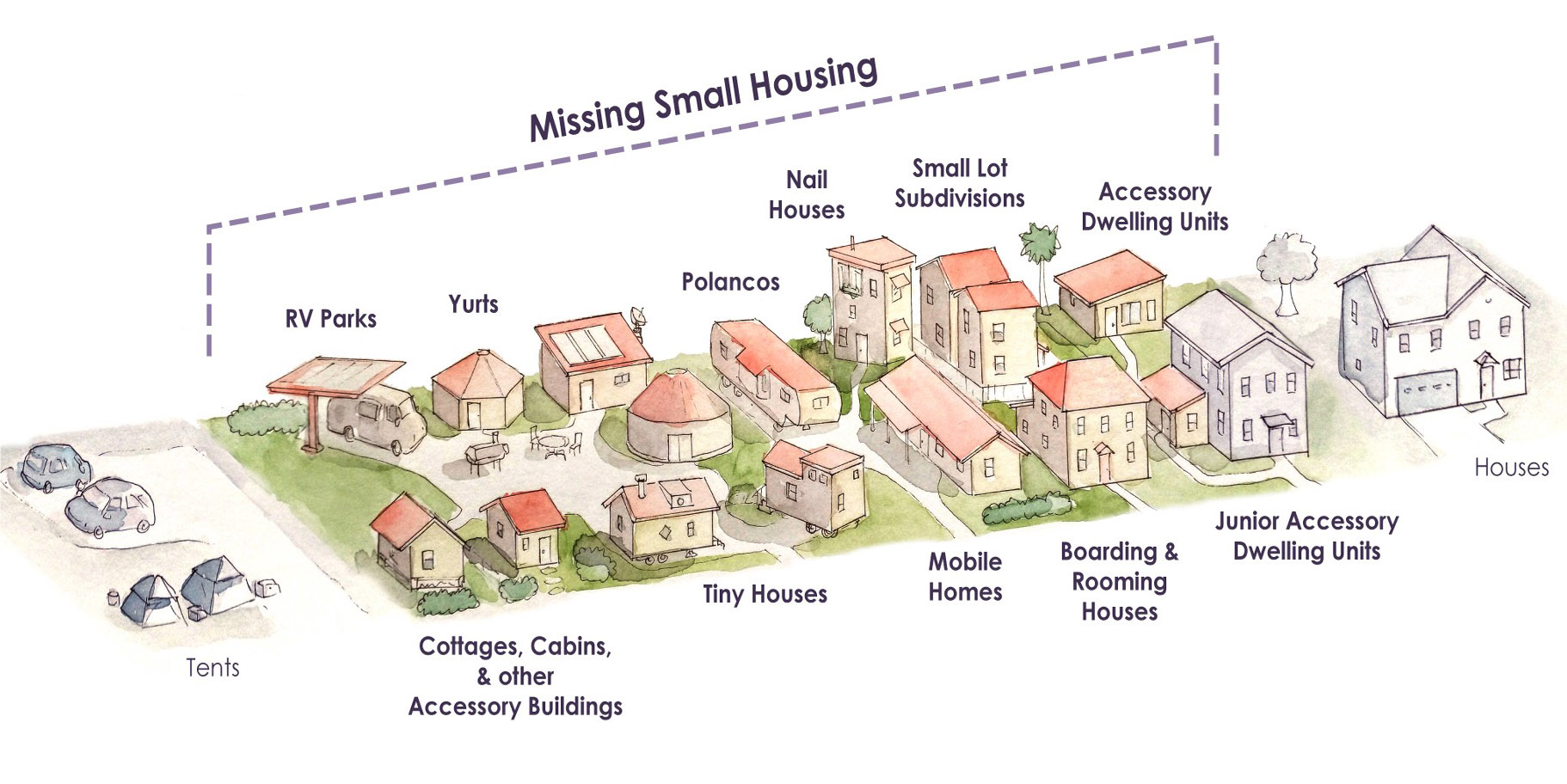 Basic shelter is not a tent
There is general agreement on the requirements of basic shelter. It must afford a warm, dry, safe, secure place for sleeping and the activities of everyday life, with adequate natural light and ventilation, free of mould, rot, and vermin. It often includes a kitchenette to avoid conflicts around cleaning, timing, food buying and poaching. But it often does not include a toilet and bath, which are commonly shared. Shared washrooms usually work well with a protocol for cleaning; they are common in high schools, student residences, campgrounds, low-cost hotels, and houses converted into apartments.
The minimum acceptable size for basic shelter is contentious, with smaller spaces often labelled as substandard by those who have never lived in a small space. Still, the acceptable minimum is getting smaller. Thanks to the tiny house movement, many people have discovered they do not need a lot of space if they do not have a lot of stuff. Most families in the world live in housing that is under 200 ft.² – about the size of a single car garage. For a single person, we suggest a minimum of 100 ft.².
Too small? It depends on who you ask.
Toronto carpenter Khaleel Seivwright has been building insulated shelters for the homeless. They are only 8 feet x 4 feet x 5 feet high, but are warm, dry, secure (lockable) and safe. All have carbon monoxide and smoke detectors. Because they are insulated and small, interiors stay warm on cold winter nights from body heat. Compared to a tent they are deluxe. Those receiving one of Khaleel's very tiny houses can't believe their luck. Still, the City of Toronto has ordered these buildings removed claiming they are fire hazards – which is nonsense. For more see the CBC news story and the ABC news story.
We are not recommending the homeless be housed in 5 foot high boxes. We are recommending that bureaucracies consider low-cost, easily-built options that are better than tents.
Caring a lot can result in caring too little
Unfortunately, many of those working on the issues of land speculation, poverty, market failure, and rising inequality, seem to object to attempts to provide inexpensive basic shelter, possibly because they see themselves as champions for the oppressed. The homeless, they argue, deserve better; tiny houses are substandard: too small, and too temporary; all efforts should be focused on providing permanent accommodation.
They point to homelessness as an illustration of the need for systemic change. But the homeless should not serve as poster children for political action when we have modest ways to make their lives more bearable. Even adamant crusaders for social justice willingly admit that no one should have to live in a small, wet tent; or sleep in their car as many of the working poor do in some US cities.
Perfect can be the enemy of good
Many argue that everyone should have a permanent home, for a single person a minimum 200 square foot bachelor apartment with bathroom and kitchen. But this ideal remains a faint hope, too costly to be realized through public funding in North America. Nevertheless, in Canada, the focus has been on building this kind of housing, based on the idea of "housing first". While it does address the needs of the most vulnerable, it ignores the needs of thousands of others who must live without basic shelter, on the street or wherever they can.
In 2019, Vancouver embarked on a program of building their perfect option: modular housing at a cost of about $200,000 for a 300 square foot bachelor unit. The City also set aside large sums for expensive renovations, budgeting $286 million to renovate the Regent and Balmoral single-room occupancy (SRO) hotels. Assuming the renovated buildings will accommodate the same number of residents (300) – the final cost of a unit will be a whopping $286,000. The cost of renovating just one SRO would be enough to build all 30 units of a tinytown. 
Vancouver modular housing for the most vulnerable.
Tinytown: Basic shelter in a village format
There are many ways to configure the physical form of a village of tiny houses. Given the lack of local experience, we suggest following the lead of Seattle, Portland and Eugene. In particular, we suggest a pilot of 30 units, temporarily situated on city land, or land waiting to be developed, each unit with about 100 square feet, and few services beyond a kitchenette, a heater, and a smoke detector. The tinytown would include a common building containing showers, toilets, a common kitchen and a dining-hangout-rec room. Individual units would resemble row houses or cottages, constructed as insulated wood frame buildings on treated skids, all resting on concrete paving squares. They could be site-built, or factory-built and moved to the site by truck. The site would be surrounded by a chain-link fence with camouflage planting, and a single point of access restricted to service providers and residents.
A bridge to permanent housing
One form of temporary housing, student housing, is comparable to what is being proposed here. Students move on to larger, permanent places as they begin to earn an income. Temporary housing configured as a tinytown serves a purpose similar to student housing. In Seattle's ten tinytowns, residents stay 6 months on average. In Eugene, 57 people called Opportunity Village their home over 9 months, during this time 14 left voluntarily and 10 were expelled for rules violations.
Short video documentaries describing Dignity Village in Portland, Oregon, one of the first tinytowns; Opportunity Village in Eugene, and the much newer Emerald Village in Eugene. These villages would be better if units were attached, and more attention was given to a common building.
Socially superior
Tinytowns result in fewer calls to 911, fewer overdose incidents, and fewer complaints from local residents once they are established. They also provide an address so that caseworkers can find those in need of specialized services. Organizations that advocate for the homeless have pointed out that tinytowns and tent camps provide social and emotional support not readily available in social housing or shelters. During World War II, the military built temporary housing on land that is now part of the University of British Columbia. They consisted of huts containing 12 – 6×8 foot rooms aligned on both sides of a single corridor, leading to shared sinks, showers and toilets at one end. After the war, the huts served as student housing for over thirty years, providing an opportunity for university sociologists to study how well they worked. To everyone's surprise, these army huts became the housing form they recommended most. Today, evidence that these are good places to live does not fit with images endlessly flogged by the real estate industry. In many ways, a tinytown with a large common house resembles a cohousing project, a form of housing widely recognized as socially superior to expensive condo and townhouse projects where people lead largely private lives.
Army huts at Fort Camp, housing at its best.
Self-managed with an operating agreement with the city
Having a housing non-profit manage the tinytown is a bad idea, expensive and typically plagued with conflict. Successful tinytowns are self-managed by residents who elect a council from their numbers. The council works with all those in the village to establish rules and penalties, assign chores, and levy fees to cover basic costs. Many tinytowns have a probation period to make sure a new resident will fit in. Rules usually include no alcohol, no drugs, no firearms, no open fires, no violence or stealing, and no abusive language. Failure to follow the rules usually results in a warning. A second infraction can mean temporary or permanent expulsion from the camp. The rules may seem heavy-handed, but they are necessary for a population with many difficult people to live together. Two other issues should be mentioned. The first is cleaning. While most tinytowns require residents to routinely contribute to maintenance, cleaning and security; there are some jobs, such as cleaning toilets, that should be assigned as paid work. The second issue is hoarding, which can quickly turn a small space into a nightmare of with collected junk, packaging, and food. The agreement for new residents should include a clause to control hoarding. Here is an example of a village manual and an agreement for new residents.
Most authorized tinytowns also have an operating agreement with the city. A nonprofit usually administers the agreement. Playing a mediating role between city government and the tinytown, the non-profit ensures the tinytown lives up to its operating agreement; at the same time it advocates for residents at City Hall. Andrew Heben who has set up three tinytowns in Oregon provides a model operating agreement in his book, Tent City Urbanism, From Self-Organized Camps to Tiny House Villages.
City sites
In the United States, tinytowns tend to be built on wasteland at the city periphery. This is a poor choice because residents need to connect to public transit, services, friends, and work possibilities. Most cities have plenty of suitable land near the downtown. Candidate sites include city-owned lots; portions of little-used streets, and remnants along transit rights of way. Other possibilities include empty land being held by developers – such as remediated gas station sites. Cites could encourage developers to make some of these valuable inner-city sites available by eliminating property taxes. In some US cities, residents with large properties and churches with large parking lots have made space available for tiny houses. An abandoned shopping center or the top floor of parking garages might also provide sites for a compact tinytown.
Thin streets offer possible sites. Cities own a vast amount of public land in the form of streets, boulevards, sidewalks and property on either side of the roadway. In Vancouver, the smallest residential street is 66 feet wide. If the street has little traffic and parking, half can be turned into a one-way thin street, leaving the other half for public use. For more information see the thin streets project designed for Vancouver. Acquiring a site is the first and most important step in realizing a tinytown pilot.
Tinytown 1: single storey
Site: 100' x 120' corner lot, 3 – 33′ wide lots, or old gas station site
level surface with road base, chain-link fenced, landscaped
buildings: 30 dwelling units, 1 common building.
Common building:  24 x 48, 1150 ft.²
2×4 wood frame, panelized in 8' modules for easy disassembly and transport
foundation: 2' x 2' concrete pavers
community kitchen: 8' x 18', dining and recreation open area: 24' x 24'
laundry, pantry, closet storage, 12 overhead lockers
three showers and four sinks draining into a leaching pit
four toilets using draining into a 16-inch high holding tank, or city sewer
temporary power pole for the electric stove and electric heat
estimated cost (Vancouver, 2020): $325,000
Dwelling/sleeping units:  30 – 8 x 12 , 112 ft.²
2×4 wood frame, whole unit can be moved or removed from the site
foundation: 2' x 2' concrete pavers
main floor interior space 84 ft.², loft floor 28 ft.² accessible by ships ladder
kitchenette: gas cooktop, sink, cold water, grey water drains to a leaching pit, possible under-counter fridge.
water: city water via protected shallow-buried pex from common building,
electrical: 12v via protected shallow-buried cable from the common building
lighting: LED lights
heating: portable propane heater, two independent safety devices
windows: 2 clerestory casements, 1 large fixed twin-wall polycarbonate
lockable back alley for bikes and garbage
cost per unit $10000-$15,000 (Vancouver, 2020); 30 units $300,000-$450,000
A note about codes
It should be clear from the outline cost estimate above that the tinytown does not follow conventional building codes. It does not because it is not conventional construction, being temporary and portable, with units resembling RVs without wheels more than conventional houses. The assumption is that if municipalities really wish to address substandard tent encampments, they will relax prescriptive building codes in favour of performance requirements that serve the same purpose.
Actual costs
Costs are difficult to determine without a site and without deciding what should comprise the project given what stakeholders feel is appropriate. Construction costs are the sum of hundreds of decisions about what will be included. The projected cost for the common building is based on local square-foot construction costs for a wood-frame building of its size. Here, the projected cost of each dwelling unit is based on the cost of similar-sized dwelling units in US tinytowns – without donated labour, and but with 20% of materials contributed by local suppliers. There is no sum included for the lease of the land. This proposal assumes that the City will provide a temporary site, the cost of securing the site with a chain-link fence, and site preparation that includes levelling, road base and landscaping
Site:  50' x 120' lot shown for scale. A larger site such as a double lot, a street end or a remnant site would provide more open space.
the site could also be a location waiting for development.
level surface with road base, chain-link fenced, landscaped
32 dwelling units, 1 common building.
Common building :  24 x 46, 1104 ft.²
2×4 wood frame, panelized in 8' modules for easy disassembly and transport
foundation: 2' x 2' concrete pavers
community kitchen: 8' x 18', dining and recreation open area: 24' x 24'
laundry, pantry, closet storage, 12 overhead lockers
three showers and four sinks draining into a leaching pit
four toilets using draining into a 16-inch high holding tank, or city sewer
temporary power pole for the electric stove and electric heat
estimated cost (Vancouver, 2020): $325,000
Dwelling/sleeping units:  32 – 8 x 12 , 112 ft.²
2×4 wood frame, the whole unit can be moved or removed from the site
foundation: 2' x 2' concrete pavers
main floor interior space 84 ft.², upper units have 28 ft.² loft accessible by ships ladder
kitchenette: gas cooktop, sink, cold water, grey water drains to a leaching pit, possible under-counter fridge.
water: city water via protected shallow-buried pex from common building,
electrical: 12v via protected shallow-buried cable from the common building
lighting: LED lights
heating: portable propane heater, two independent safety devices
windows: 2 clerestory casements for upper units; 1 large fixed twin-wall polycarbonate, plus 1 entry window, and 1 louvred vent for lower units
lockable back alley for bikes and garbage
cost per unit $10000-$15,000 (Vancouver, 2020); 32 units $320,000-$480,000